In priming and painting aluminum sliding in Calgary, a  common choice for residential siding since the 1960s is aluminum. It's a popular choice for outside siding on residential buildings. Aluminum siding  is a lot easier to keep clean than other types of siding. Even if vinyl siding is more common these days, if your house has aluminum siding, you shouldn't get rid of it. And yes,  It is possible to give your metal siding a new look with a fresh coat of paint.
Exactly how long does it take to paint aluminum windows or siding?
In Calgary and the Calgary Area, the weather may have an effect on the paint job on your aluminum siding. Where we experience a wide range of seasons and climates. Professionally done paint jobs may endure seven to 10 years, particularly if they're done by an expert. You may wish to repaint your home's exterior every few years to keep it looking fresh. Yet you may be certain that the finish of your paint job is flawless.
Aluminum Window and Siding Painting Instructions
The first step in painting the outside of your Calgary house is preparation. Because of the extensive damage to the surface. A professional painter may be a better choice if you're terrified of heights or aren't experienced with exterior house painting. If you don't have the proper safety measures in place, working on the outside of your house might be dangerous. Our recommendation is to hire a professional painter.
Preparation
Before painting your siding, it's a good idea to fix any blemishes. You may do the following in order to remedy the situation:
Drawing a square around the portions you wish to eliminate is the first step in the process.
Second, use tin snips and a utility knife to cut away the part as evenly as possible.
Three inches larger on each side than the piece you removed is a good rule of thumb for your new patch.
After that, remove the patch's nailing strip using the tin shears.
To secure the patch in place, apply a layer of clear silicone caulk to the back of the patch and push firmly.
The last step is to remove any silicone residue.
Keeping Your Home's Exterior Clean
Before you attempt to paint aluminum siding on your house, you must thoroughly clean it. If there is any dirt, trash, or damage to the surface, the paint job will be subpar. You'll need to scrape and peel off any areas of peeling paint from your prior paint job. To acquire the finest possible paint finish, sanding, pressure washing, and handwashing are required.
Use a low-pressure nozzle on your pressure washer if you have one or plan to hire one to save time. And, as always, squirt upwards. This will lead to rust because dirt, debris, and excess water will be able to enter inside and beneath the metal. Before painting, you'll need to remove any rusty areas. You'll need to let the surface to dry fully before painting it, so be patient.
Aluminum Siding or Windows may be painted.
Plastic or drop sheets and painter's tape should be used to cover any plants, furniture, gutters, windows, or architecture that you don't want painted.
After the preparation work you've previously done has dried fully in your house,… You'll need to use a metal or aluminum primer first. Apply primer to the whole exterior with a paintbrush and let it dry for at least four hours, or longer if necessary. Until it has dried fully.
To begin painting, wait for the primer to dry before applying the first layer of exterior paint. When painting the outside of your house, pay attention to the tiniest details using your rollers and paint brushes. For the initial coat to dry, let it sit for a few hours after painting. The drying time of the paint you're using is dependent on the kind of paint you're using. In order to have a long-lasting and high-quality finish, you need apply a second coat.
Using the Services of an Expert
Call or contact us for a free estimate on painting your metal siding or windows. Thousands of Calgarians have turned to us for aid in creating the external appearance they've always wanted for their houses while also increasing the value of their properties. Upon arrival, we will offer you with a full price and color consultation to guarantee you receive precisely what you want. If you're happy, we'll schedule you at a time that's convenient for you and includes everything we spoke about. Drop sheets will be used to protect your lawn, plants, and outdoor furniture once we're ready to paint.
Your home's exterior and interior will be prepped and painted to perfection by our team of painters.
Painting Aluminum Windows or Sliding
Depending on the job, aluminum siding may or may not need to be primed before painting. However, preparing to paint aluminum siding is a lot less expensive than replacing it entirely.
The task of priming and painting aluminum siding is a large one, regardless of whether you're picking a color or arranging your time. The most important thing is to make sure the weather cooperates as much as possible and to give yourself plenty of time to prepare.
If you're cleaning or painting your siding for the first time, make sure you have all the essential equipment and supplies on hand.
Oxidation
Aluminum panels are often "factory finished," which means that they don't need to be painted until they have "aged" in most homes. Many homeowners may notice a chalky residue on their siding after it has been there for more than two decades.
This is known as oxidation and must be properly cleaned before painting can begin. Although the chalkiness may not go entirely, a thorough priming layer will ensure that the ultimate product is still excellent.
Oxidation
How It Works
Using a power washer may save time, particularly when it comes to cleaning. Your painting work will be flawless if you follow this crucial step. Wear any appropriate safety clothes and equipment before you begin and start with a lesser level so you can get adjusted to the intensity.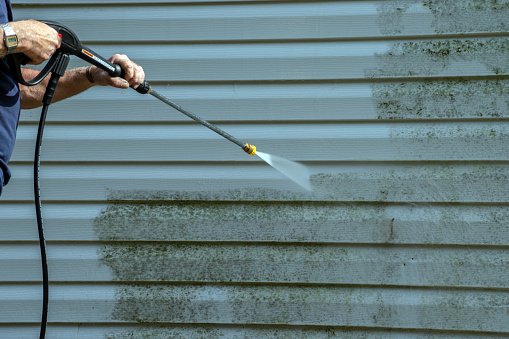 Metal and baked-on surfaces may be cleaned with bleach and water and a high-quality detergent from your local hardware shop. Mold, spiderwebs, bird feces and other debris may have collected over time.
The third and last step is power washing will remove the white chalky powdery residue. In the absence of a power washer, an old-fashioned brush and scrape will suffice. No matter how old or deteriorated your siding is, the following few procedures will restore it to its former glory, making it ideal for painting.
You may begin caulking when you've completed the washing procedure. You should patch up any dings or holes you find before painting so that the paint will adhere properly. It's also possible that you'll need to fix or replace any additional broken panels before you begin painting.
In addition to cleaning and caulking, tape off all the windows, doors, and trimmings once cleaning and sealing have been completed.
They won't be sprayed or misted in the following step if you do it this way.
When it comes to primers, oil-based primers are preferable if bare metal is visible. Many exterior paints come with primers already built in. A metal etching primer is also an option.
It's easier to learn how to use a sprayer if you choose the appropriate product for your job. To uniformly coat the siding, you'll need to grow accustomed to moving your arm back and forth at a constant distance from the siding.
One coat should be sufficient, but if you feel the need for a second one, go ahead and get it. You may prime one day and paint the next since painting a home is such a massive undertaking. However, most dwellings are completed in three to four days.
Most commonly, high-quality acrylic latex paint is suggested when it comes to painting. It's important to keep in mind that certain external metal paints come pre-primed, thus the prior step of priming may not be required. Two coats of paint should enough after you've finished the painting process.
On metal siding, you may use a roller as well as a sprayer, which can speed up the procedure. A matte rather than a glossy finish is preferable in terms of paint style. This minimizes the visibility of any dings or blemishes in your panels. Metal siding coatings may last anywhere from five to 10 years, depending on the quality of the paint.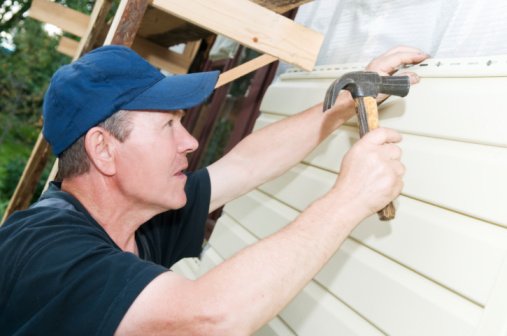 Removing the tape and plastic off windows, doors, and trim will reveal your aluminum siding in its new, fresh form. It will enhance your property's curb appeal and transform it into the home you've always wanted.
We're here to assist, so if you have any questions, don't hesitate to contact us at Lucky Painting Company Calgary. Also, if you need assistance, please know that we are more than willing to provide it.