Professional Painting Company in Calgary
Exterior Painting Services
When it comes to decorating we think about inside, but what about the outside? With our range of exterior painting services in Calgary, we have remained renowned with world-class exterior painting facilities to ensure the fundamental professional capacity and creative technicalities in delivering a proud makeover to the exterior beauty of your home or property.
Using only premium products with a long lasting warranty, from the Benjamin Moore and Sherwin Williams line. We'll take the time to inform you on the best choice for the exterior of your home or business, making sure all your needs are met.
However, whether you're selling your home or just can't stand the sight of a weathered, peeling paint anymore, Lucky painting Company Limited in Calgary is here to answer your questions for a home exterior makeover to be proud of, as well as deliver great exterior painting services in Calgary, AB, amongst others.
The 'outside' of every building first meets the eyes, and we understand that you need to make a positive impression. Our exterior painting services are designed to help you do just that. At Lucky Painting Limited of Calgary, we tune our offers for your exterior painting needs for a distinctive result. If you must know, the most important aspect of exterior house paint is that it stands up to the weather and lasts the distance. With the choice of Lucky exterior painting you are assured that your house will become the much-needed facelift by leaving it looking better than ever.
Here is a brief overview of our detailed process:
Consultation – We gladly offer input and advice regarding the finish and type of paint that should be used, including painting samples. We're paint experts with national partnerships with leading brands like Sherwin-Williams. This sets us above the rest because we can help you find the perfect paint for your home.
Protection – Your home will look better after we've finished it, not worse! We protect all plants, furniture, and grills with drop cloths or plastic coverings. It's also important to keep paint where it belongs, so we work with you to close all the windows and storm windows, or we'll find an alternative arrangement.
Prepare the surface for painting – Our job is not just about painting your home; we're here to make sure your home keeps looking great, year after year. We take special precautions to prepare the surface of your house to protect your investment in painting the exterior of your home. These are just a couple of the ways we prep your home:

Remove dirt and mildew – We use a biodegradable detergent or bleach depending on the extent of the mildew. Drying time varies.
Create an optimal surface for adherence – New paint needs to have a smooth surface to adhere to. We scrape and sand away any peeling or flaking paint. We also spot prime, caulk, and putty as needed.
Evaluate rotten or broken wood – If there is wood that needs to be replaced or repaired, we work with you to arrange this.
Nail any loose ends – Loose boards, moldings, and protruding nails get the finishing touches.

Window prep: We make sure your windows are protected during the painting process, including potentially removing the windows and screens, if necessary. This might incur additional costs. All removed items (downspouts, storm windows, shutters, etc.) will be replaced at the end of the project.
Paint, the right way: We apply all coats of paint, including a finishing coat, following safety guidelines to protect your home and our workers.
Final inspection: We not only conduct our own inspection, but we also invite you to do a final walk-around to answer any final questions or requests.
Each step of our process is designed to ensure optimal results each and every time. From start to finish, you can always count on our team to pay attention to every detail.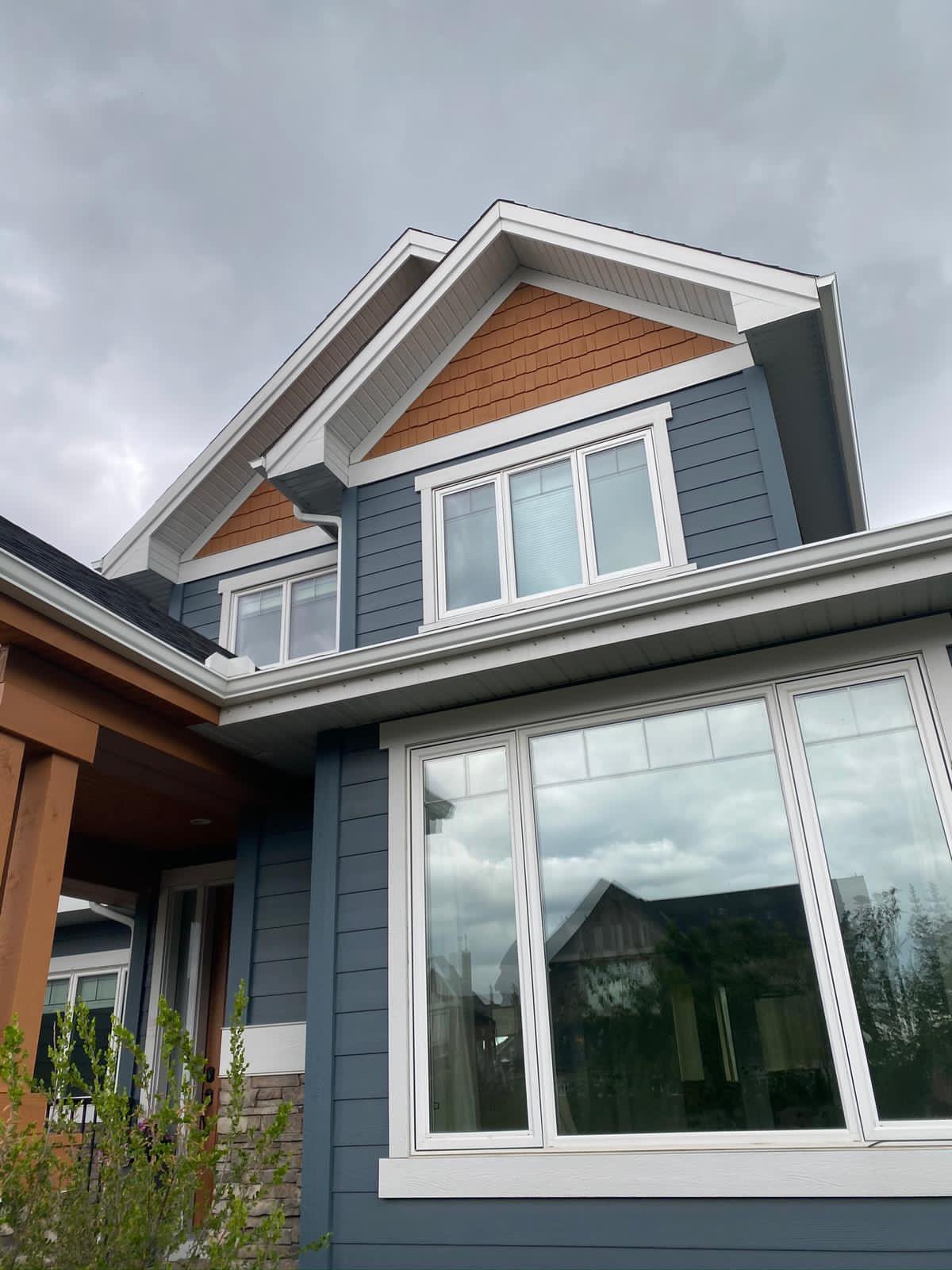 We are Calgary based painters and decorators with excellent customer service
What makes our painters and decorators different?

Speedy Service
We respond to any inquiry within two hours; we are available for consultation as soon as the next day. Get your Calgary property transformed and book your house painters and decorators for the same week!
Easy Process
With our hassle-free painting and decorating service, you can leave everything to us. You're our priority. All you need to do is to book your consultation. We then inspect, advise, and paint!

Top Quality
We have been painting Calgary properties for years and our experienced painters and decorators use only superior materials. Plus, we give 2 years warranty on every job.

Experienced Team
Our team has a minimum of 8 years of experience, knowing the best tools and materials depending on the desired service. Our professionalism and quality makes us stand out from the crowd.
Hundreds of Homes in Calgary Choose us
Fully licensed and insured
100% guaranteed results
WCB Coverage
Highly qualified, skilled and experienced house painters
Top-quality paint and materials
Free colour consultation with a professional interior designer
2 years paint job warranty on workmanship and materials
Proper preparation of all surfaces to be painted
Foreman on every site
Low VOC paint
Foreman on every site
9.5 /10 Home Stars ratings
Request A Free Estimate Now
From the  planning of the project to execution, our painters will  give your home the look it deserves.