Whether its your living or rental property, we have the assurance that you can transform your property with paint, if you allow our best hand to work with you.
When you own a home, it's your responsibility to keep up with routine upkeep on the inside and outside at all times to keep it looking its best. Painting the outside of your home is one of those tasks that is much easier to do when the weather is nice, so it's better to schedule it for the summer months rather than when it's likely to rain, sleet, or snow.
You can breathe new life into your house in many ways by just painting it, but here are the top five:
Wall Painting
Changing the color of the walls is the quickest and most affordable method to give your house a whole new appearance. You'll need to repaint the interior and exterior, and you might even consider switching up the colors for a whole different vibe.
If your front door is now a boring beige, why not give it a jolt of summertime color by painting it with a splash of yellow or turquoise? You may also change the mood of your home by painting the walls a different hue. What about going for a daring hue like the always-popular navy blue?  Changing the look of a space is as easy as painting one wall a different color and paneling the other. If you want to set the perfect atmosphere in each area, you should give some thought to color psychology before picking out a paint hue.
Decorate the Furniture
It may be time-consuming and costly to shop for fresh new furniture. Painting your indoor and outdoor furniture is a terrific way to give it a fresh look and feel. A new color might be used, or you can just apply a new coat of the existing color.
Refurbish the Cupboards by Painting Them
From the kitchen, where we keep our food, to the bedroom, where we keep our clothing, most houses have cabinets everywhere. What this means is that if we take the time to go around and repaint all of our cabinets, you will instantly notice a tremendous change, and each space will seem like it has had a full makeover.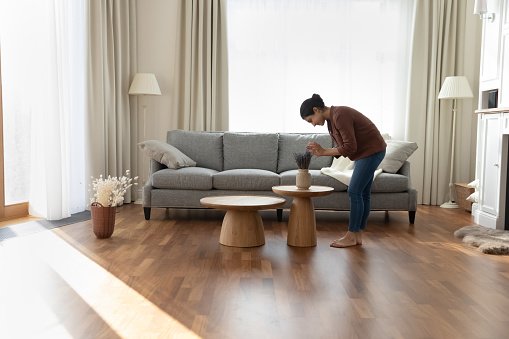 It's simple to maintain the ceiling of a residence looking new and tidy by giving it a new coat of paint every few years. Painting the ceiling white is a safe choice if you want to make a room appear larger and brighter, but if you want to experiment with color at home, consider painting the ceiling a vibrant colour.
Painting on the Outside
Many homeowners make the mistake of not painting the outside of their homes. Garden sheds, garage doors, and outside spaces like patios and barbeque pits should all be repainted for a new look.
If you're painting an outside surface, use an outdoor paint specifically formulated to withstand the damaging impacts of the sun, rain, and cold. Choose a product like Allcoat Exterior from Rawlins Paint that can be used on a wide variety of surfaces, from wood and metal to concrete and plastic, and you won't have to purchase as many individual paint cans. My wife and I just purchased a home by the lake, and I am always on the lookout for goods that would make upkeep easier.
Renovating your house is a terrific investment that will not only make you happier, but will also increase its worth. If you ever decide to sell your house, it will attract more purchasers if it is in good condition.