If you have vinyl siding and windows on your house and you need painting on exterior vinyl windows and siding this spring, you should be thinking of a new coat of paint.
A new coat of paint may transform your home's curb appeal, particularly if you're planning to sell it. Without some preparation, painting vinyl might be difficult. You can paint vinyl, but unless you're an expert, it's not a good idea. If you wish to perform this endeavor yourself, though, you must be aware of the hazards.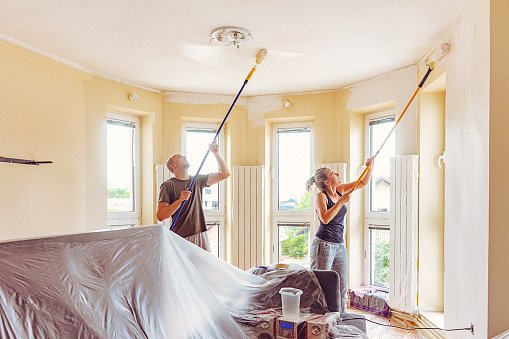 When it comes to updating your vinyl siding or windows, it's not as easy as washing and painting. Paint won't attach to vinyl without some form of priming, but depending on what's in it, primer might potentially harm the vinyl.
When you paint vinyl, it usually crumbles, splits, and flakes, which is really ugly.
You should also double-check that you aren't voiding any warranties you may have.
Priming and painting your vinyl might compromise its structural integrity and result in a major (and costly) hassle. Before you begin the difficult task of painting your vinyl, double-check that your manufacturer's guarantee is still in effect.
Dark vinyl absorbs more light, thus it's not suggested if it'll be exposed to direct sunlight for the most of the day. Your window will ultimately bend or get damaged as a result of the absorbed heat.
If you're still not sure that you should hire a professional to paint your vinyl siding or windows, here are some helpful hints.
Use a high-quality alkyd or bonding primer.
Invest in high-end paint. Sherwin Williams and Benjamin Moore both provide vinyl-safe paint solutions that would work well for these tasks. Even though some products claim that you don't need a primer, it's always a good idea to use one.
Avoid using a deeper color since it may warp.
Because vinyl has a tendency to expand over time, you should use latex or acrylic paint instead. These paints are less likely to fracture and peel than other paints.
Because vinyl is so fragile, you'll want to prepare the surface as much as possible.
How to Paint Vinyl Windows or Siding on the Outside
The four basic stages for painting vinyl windows or siding are as follows:
The surface should be thoroughly cleaned in step number one. To get the finest effects, you must thoroughly clean the region.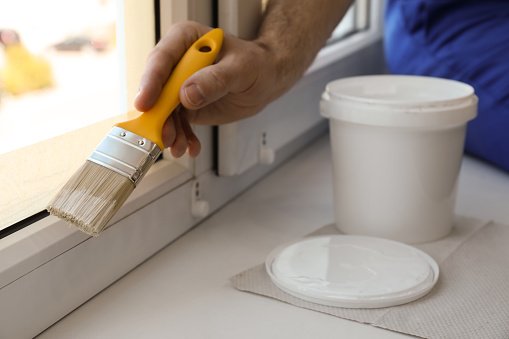 After cleaning the surface, you'll want to gently sand it to ensure that the primer does its finest work. Keep an eye on your windows while you apply the medium-grit paper or sponge sandpaper to the vinyl.
The next step is to prime your vinyl. With a brush, roller, or spray, you may apply a layer of high-quality primer to your surface. Tape off any places that you don't want to be primed. Before painting, let the primer to dry fully.
Once the primer has dry, you may begin painting. For windows, you'll need a little brush to get the job done well. When painting with spray paint, keep an eye out for drips.
Tips for Painting Vinyl: Things to Keep in Mind
When painting vinyl, it is important to take into account all of the possible dangers. Keep the structural integrity of your house intact since it is your first line of defense against the weather. If you decide to paint your vinyl yourself, here are some things to keep in mind.
Otherwise, you risk causing damage to the outside of your house, necessitating an exorbitant repair bill.
There is a scenario in which, even though you know that your vinyl siding or windows are covered by a warranty, you decide to paint them. An insurance claim might be voided in this situation.
We can assist if you want to paint the outside of your house but don't want to undertake the task yourself. Whether you've made up your mind or not, a professional home painter can assist you with any issues or concerns you may have.
Call us now to obtain a FREE estimate if you think the task will take too much time and effort for you to do it yourself. Painting the vinyl will usually invalidate the warranty, according to the terms of the manufacturer's guarantee.
Choosing Between Painting Wood Siding and Vinyl Siding
As a result of its widespread usage, vinyl siding may account for anything from 40 percent to 70 percent of the market, on average. Nonetheless, if you're curious about vinyl siding's benefits and drawbacks, we've got you covered!
Plastic polymer vinyl was invented more than a century ago. Because of its durability and resistance to fire, it has become one of the most widely used materials in the world.
PVC, or polyvinyl chloride, is a popular material for making pipes and floors. Because of its low-maintenance and high value, it is an excellent choice for siding.
Merits and Demerits of  Painting Vinyl Siding
The natural color of vinyl siding may last up to 30 years before fading. A homeowner may begin looking at their alternatives sooner if there are a lot of damaged sections and panels. 'Can you paint vinyl siding?' may be on your mind if the panels are in good shape. As a replacement might cost upwards of $5000 for a typical-sized home, painting is a far more cost-effective option.
Painting, on the other hand, often costs between $600-$3600 per square foot. Acrylic paint adheres best to vinyl siding because of this. For the next decade or more, repainting may be unnecessary.
Before embarking on this process, consider how you want your house to seem, how to install vinyl siding, how long you've owned it, how good of a condition it is in, how much you want to spend, and whether or not you want to sell it.
It is also vital to think about the season and how weather conditions may impact the actual operation..
Merits to Painting Your Vinyl Siding
It's cost-effective.
In certain cases, painting vinyl siding may save you thousands of dollars compared to the expense of replacing the material. Depending on your financial situation, this might mean the world.
For one thing, it saves a lot of time
It may take anything from 2-10 days to paint a home, depending on the size. Installing new siding might take 2-3 weeks. Because of this, it's possible that it will affect the time of year or the schedule of the homeowner.
It's Time for a Change
Refreshing the appearance of vinyl siding with a fresh coat of paint is one option. Repainting your walls is an easy method to update the appearance of your house if the colors are beginning to fade or if you just want a fresh start. Your panels will look as they did when they were first installed.
A Second Layer of Protection
Painting vinyl siding is a simple and effective method to protect your siding from the elements and extend the life of your panels.
It Increases The Value Of Your Home
Consider painting your vinyl siding if you plan to put your house on the market or if you've noticed that it's lost some of its luster over time.
Painting Vinyl Siding Has Its Downsides, overall, the drawbacks of painting vinyl siding are minor. But here are four things to keep in mind.
Reasons why painting vinyl siding is not the best option
New Siding Has a Longer Life Expectancy than Old Siding
With proper maintenance, new siding can look great for decades. While on average, painting your house every five years keeps everything looking new – however you may not need to paint again for up to 10 years, depending on the characteristics of your property
If the vinyl siding is already damaged, it will only become worse with time. Occasionally, the damage is so extensive that replacing or installing new siding is the only alternative.
Color Mismatches
In certain cases, vinyl siding colors that are excessively dark might have a detrimental impact on a home. More heat may be absorbed by a darker color, which can lead to distortions in the smoothness and alignment of vinyl siding panels.
The warranty may be affected.
It is possible that painting the siding while it is still under warranty might void the warranty. Before making any selections or painting your vinyl siding, be sure you read the terms and conditions first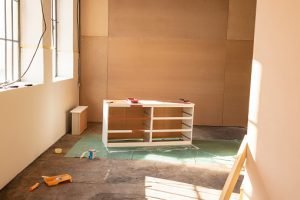 There you have it…the advantages and disadvantages of painting vinyl siding vs installing vinyl siding. At first, deciding on a course of action gives you an immediate lift, but looking at the home from the outside might be overwhelming! Many hands and other tools are often required to complete a huge undertaking like this. Call Lucky Painting Limited Calgary instead if that option isn't feasible or accessible to you. Whether you have a query or need a service, we'll get it done on time and within your budget!