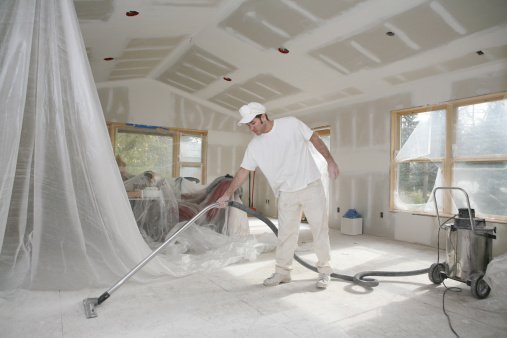 Taking everything out of the room will serve as a good starting point if you're looking for the best ways to clean your home after a drywall installation. Even if this isn't feasible, you can protect the furniture from dust by covering it with plastic wrap and taping up all the corners.
Now coat all the floor surfaces, including vents and doorways. Make careful you use painter's tape to seal the edges of any plastic. A large overlap is required when plastic components come together.
If you're going to be doing a lot of drywall work, you may want to look into getting a dust containment entryway that zips up. The entryway of the room you're working in is a great place to hang two vertically hanging pieces of plastic.
For best results, make sure the two pieces have a lot of overlap. The entryway should be taped shut while you are working. Wet sanding or using a sander with a vacuum attachment is two options for sanding. As a result, the total quantity of dust is reduced.
Removing Drywall Dust is a Simple Process
To begin, imagine that you've begun the project and that it's covered with dust. What you need to do is as follows. Always use a mask and safety goggles to protect your eyes first and foremost. You'll be more protected from the dust with this.
Second, water is the most effective means of removing drywall dust from a room. The water-absorbing properties of the dust make it impossible to float. It will be easier to sweep or vacuum up the dust if you have a few spray bottles on hand.
After you've completed sanding, use a moist towel to wash off the walls. It is easy to see where the dust has accumulated, and you can spray every surface in the room, including plastic-covered furniture. You don't want to end up with a major water mess to clean up if you're being a little too liberal with the quantity of water you use.
You may choose the manner that is most convenient for you from this point forward. Using a cloth, mop, shop-vac, or sweeping as a follow-up is not necessary. Check your work by repeating the process one or two more times. Once you've removed all the plastic from the room, put on some clean clothing and bring a moist towel with you.
How to clean furniture of drywall dust
Despite your best efforts, drywall dust might still find its way onto your furniture despite your best preparations.
The small dust may sneak up on you from a variety of sources, including your clothes or the plastic covers on the equipment. In little concentrations, it may be found all throughout your home.
Shop vacs are vital to use since your regular vacuum probably lacks a HEPA filter. Vacuum cleaners may be clogged and broken by drywall dust. When it comes to cleaning your home, you can't go wrong with a shop vacuum.
To remove excessive dust from upholstered furniture, take it outdoors and place a fan directly on it while you work. Dust will be blown away by the fan. After cleaning, you may use a moist cloth to remove any remaining dust.
In order to remove dust off wooden furniture, it is best to dampen a cloth or apply an anti-dusting agent.
Hire Lucky Painting Limited Calgary to take care of the messy clean-up for you instead of doing it yourself. Regardless of the size of your drywall installation project, we leave your house as clean as when we arrived.
All of your needs and expectations will be met by a team of experts. If you're not a seasoned expert, drywall installation may be a lot of effort. Let us take care of it for you.
A skilled drywall and painting contractor can help you get the task done, so don't hesitate to get in touch with us. The number to call is +1 403-891-4138. 
Use videos on YouTube, blogs with detailed instructions, and discussion forums to learn how to do anything. You may think that you can handle any problem that may arise in your house, even drywall repair. In order to save money, many of us are searching for ways to lower the cost of hiring a professional and the cost of the goods. However, cutting money on a drywall job may not be the greatest idea.
DIY drywalling is more difficult than it seems, and it's worth the money to hire a professional.
What Makes Drywall Work So Difficult?
It's easy to become intimidated by home improvement jobs, especially if you're not very handy. In spite of their usefulness, movies and blogs may not be totally accurate. Or, they exaggerate the ease with which it may be accomplished. In the end, it's just one of those things.
It takes a lot of time.
Dredging is time-consuming when you aren't an expert or a qualified professional. An experienced team of drywalling experts can complete a project in a matter of hours rather than days if you are a novice.
Make sure that you're utilizing the correct tools, screws, spacing, and how to utilize them all before you begin the project.
Once the drywall is up and running, further expertise is necessary to bring the project to a successful conclusion. If you've never done it before, it may take a long time and a lot of work.
It's physically taxing
If you're replacing a large piece of drywall, you run the risk of injuring yourself during the installation process. Drywall sheets are bulky, heavy, and difficult to handle when doing the job on your own. If you aren't used to dealing with thick, heavy drywall sheets, it might be taxing on your body.
It requires a high degree of precision
There are a number of procedures that demand a lot of attention to detail, from the consistency of the joint compound to taping the drywall. Joint compound should resemble warm cake frosting in consistency. If you add too much or too little water, you won't get the completed result you want.
Even though it seems to be a simple task, taping the drywall is not. It is common for individuals to remove too much joint compound behind the tape, which causes the second layer to blister. If you've done a good job taping, you'll be left with the duty of applying the second layer. It's the most difficult aspect.
Even if you're an experienced DIYer, it's almost impossible to get this job done right, much alone a novice. It's imperative that you take great care not to damage the drywall while still exerting enough pressure to ensure that the edges are smoothed out.
How Do Professionals Make a Difference?
There are others who prefer to take matters into their own hands. Some people, on the other hand, will never undertake anything without the assistance of trained specialists. Let's say your attempt to complete a drywall project on your own fails miserably.
Your time and money will be squandered if you don't finish the task. After that, you'll have to shell out even more money to have it fixed. Which is likely to end up costing you more money than if you hadn't done it yourself.
Experience and Knowledge
The time and money you'll save by working with a contractor that has the right qualifications is only the beginning. Your expectations will almost always be exceeded by the final product The job will be accomplished without a hitch if it is handled by a skilled professional team.
When dealing with a firm that cares about your budget, you can expect a high-quality product at a reasonable cost.
They've Got the Right Equipment.
When you start a DIY project and you don't already have all the supplies you need, you'll have to buy them. An needless and costly expenditure is the purchase of tools and supplies for a single project. Hire a professional since they already have the necessary tools and resources. No need to spend money on tools that will only be used once or twice.
They're also well-versed in the proper use of all kinds of tools and equipment. That means that there will be no injuries or harm caused by this method.
Improved Outcome
You won't know what to expect if you're starting a project for the first time. In other words, your final output may not be much better. An expert in their field can restore your drywall to its former glory. In particular, you'll want to spend the money to get the best outcomes on the most major investment you've made in your home.
Don't Stress Yourself Out
You'll waste a lot of time and money if you try to fix or install drywall on your own. If you aren't talented enough to handle the task, it will also bring you a lot of worry. Don't put yourself through unnecessary stress by entrusting your project to a team of experts.
Rather than wasting time on this activity, use that time to pursue something else that you like doing as well.
Trust the professionals at Lucky Painting Limited Calgary to accomplish a great job for you instead of dealing with the mess, cleanup, painting, money spent, and stress acquired. Call Us now at +1 403-891-4138 or fill the contact form to get and estimate at Calgary's best competitive price.